Dr. Pen M8 Derma Pen Rechargeable Microneedle System
The new Dr. Pen M8 Microneedling Pen is more powerful and dynamic than its younger sibling, the Dr. Pen M5. The control and precision that Dr. Pen M8 provides allow for a treatment that is intense at targeting deep scars and deep wrinkles. The easy to use M8 is designed to reduce discomfort and trauma without compromising on the quality of the microneedling treatment.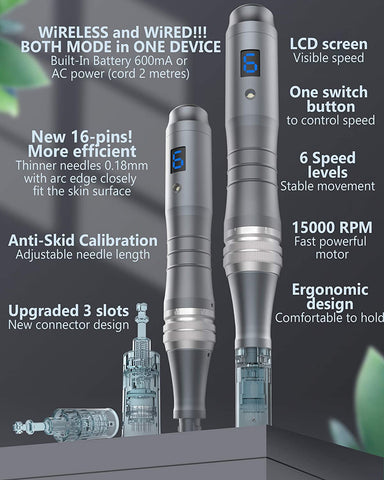 Benefits of the Dr. Pen M8 Microneedling Pen:
Dr. Pen M8 has the finest needle gauge pin cartridges; the fine needles help increase comfort when needling.
The needles have an edge that is arced and designed to flatten uneven skin surfaces to improve the treatment's efficiency.
Dr. Pen M8 has a powerful motor of up to 15,000RPM.
Built-in LED screen with a 6-speed control.
The M8 has a built-in rechargeable battery that has four hours of battery life.
Adjustable needle depth from 0.25mm-2.5mm, allowing you to target every skincare concern.
The high-speed vertical movement reduces discomfort and easily breaks up scar tissue without the risk of bending or dragging.
Function
– Skin tightening and lifting 
– Skin Rejuvenation
– Acne scars treatment and wound healing
– Wrinkles and fine lines removal
– Minimize pore sizes
– Stretch marks Treatment
– Treating alopecia
Introduction
Micro needling is the latest skin therapy system. It works on many common skin issues, because it effectively tackles the root cause of skin problems–lack of collagen. Young and healthy skin is invariably free of any blemishes wrinkles or marks. Since the micro needles work to increase collagen levels, it effectively helps your body create new, young, and perfect skin without damaging your body and without unnecessary and expensive treatments. It can treat wrinkles, acne, scars, and burn scars. A person's skin complexion is one of the first things we notice. Now you can offer a better treatment with this new device. This auto derma needle stamp uses multiple needles that vertically pierce the skin, which enhances rejuvenation and is safe for users, because there is less epidermal damage. The automatic vibrating function increases the effectiveness of treatment by increasing absorption of products, while reducing pain and discomfort.
With speed of 6,000 stamps per minute, over 66,000 micro-holes will be created on skin. The beauty products or solutions speedily penetrate into the skin, cells of dermis get revitalized, in order to achieve results of wrinkle removal, skin whitening, skin lifting, skin tightening etc.
The System uses 0.5 – 2.5 mm sized 11 needles to stimulate the dermis faster than manual MTS; shorter treatment times; adjustable needle depth; electronically powered multiple needles vertically pierce the skin to enhance rejuvenation results.
Application
a. 0.25mm: Boosts application of products applied to skin; Anti-Aging.
b. 0.5mm: Reducing Face Wrinkles, Anti-Aging, Acne Scar Removal.
c. 1.0 mm-2.0mm: Treating Cellulite, Removing Stretch Marks, Treating Deep Wrinkles, Skin Pigmentation.
d. 2.0mm-2.5mm: Burn Scars, Surgery Scars, Treating Back Acne Scars, Deep Scars (Stomach, Thighs, Legs, Breasts), Hair Loss treatment.
Pin Functions:

12 Pin: Repairs acne pits, eliminates stretch marks & wrinkles
36 Pin: Skin whitening, spot removing, shrinks pores, skin rejuvenation
Nano Chip: Painless nutrition importing,  skin rejuvenation, skin whitening, spot removing
In the box: 
1 Ultima Rechargeable Derma pen
1 Charger adapter
1 US wall charger
1 USB charger cable
1 instruction manual
1 travel case
 Two 12 needle cartridges
Shipping:
Free Shipping Wolrdwide
United States :  9-12 
business days.
Other Country:  15-20 
business days.